Five beautiful villas each with stunning views
The Headland Villas are a group of five individually owned luxury residences offering quiet seclusion amongst the frangipani trees and lush vegetation of a private beach-front headland. Situated at Taling Ngam Beach on the idyllic western coast of Koh Samui, the Headland Villas offer the perfect tropical location for a relaxing holiday.
Steeped in local history, these traditionally designed villas are finished with an exacting modern standard and décor. Care has been taken to preserve the abundant flora and fauna that exist on the Headland, and to tread lightly on the land so that they blend easily with the landscape. Natural materials have been used wherever possible, from limed hardwoods to thatched roofing.
In each of the Headland villas, three of the four walls in the main living areas comprise glass doors, which can be fully opened up to blur the boundaries and create a genuine outdoors-indoors environment. Clean-lines, a monochrome palette and an uncluttered décor ensure the view, and the mind, is never overwhelmed.
The Headland is a truly unique place in Samui, nestled amidst a lush nature environment directly above the sea, with a contemporary tropical architecture. As a Koh Samui accommodation destination of choice. the Headland is blessed with stunning 180 degree sea-views across the Gulf of Thailand, and spectacular sunsets on the southwest coast of Samui.
The Headland is a magical place to stay that will remain in your memories for years to come. We look forward to welcoming you to the Headland.
The villas at a glance
With five stunning villas to choose from, the difficult decision is not what Koh Samui hotel to stay at, but which of the Headland villas is perfect for you.
Continental breakfast is prepared and served by the Villa Staff in the privacy of your villa every morning (included in rates); enjoy overlooking the turquoise waters.
The Headland has free WiFi available in all Villas and throughout the estate. Cable TV is also available in each Villa.
Villa sitemap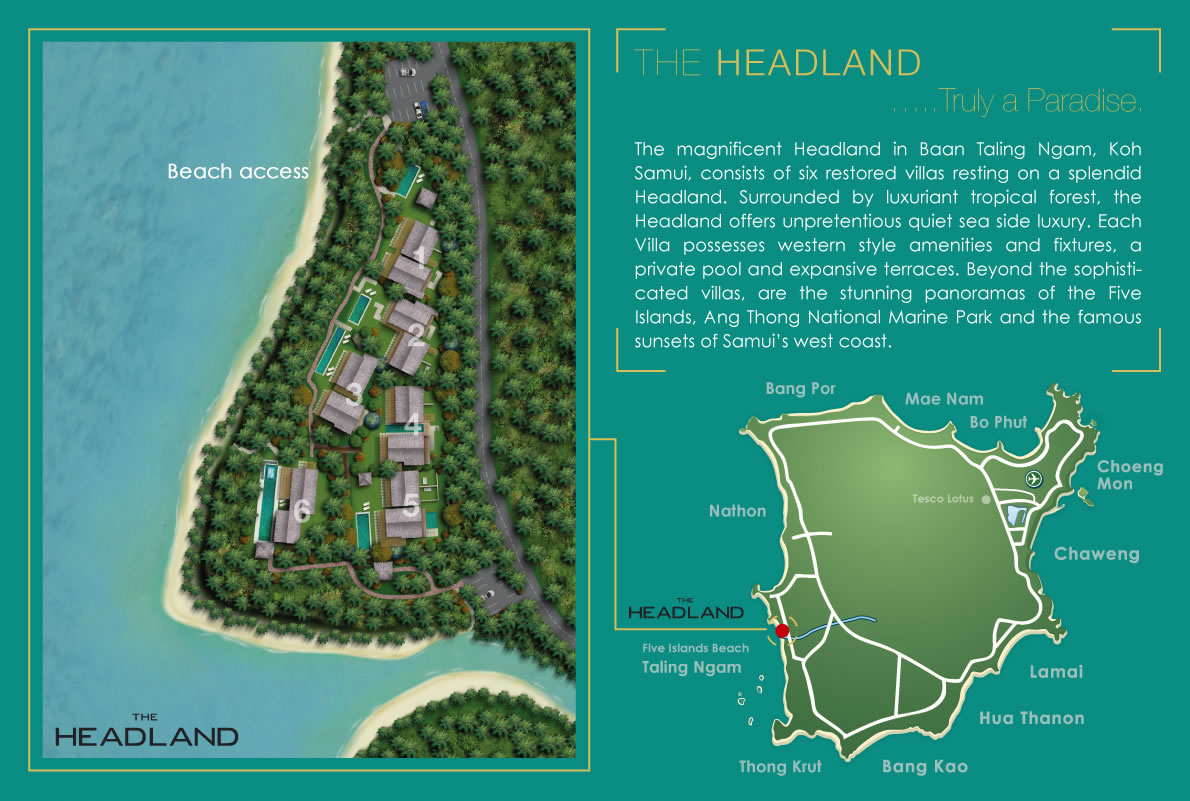 Promotions
Summer holidays at the Headland, Koh Samui - Special offer
for all returning guests at the Headland we are offering one free night for every 5 night minimum stay, or a 10% discount for a minimum 3 night stay.
For every guest referral from a former Headland guest we are offering a 10% reduction on room rates outside of peak season periods combined with a complimentary massage and in-villa chef meal for a five-night minimum stay.
Please enjoy your stay before December 14th for this offer to be valid. We look forward to seeing you again at the Headland Koh Samui.
Book direct
The View
Adjacent to the Headland villas is our sister property - the View.
The View sits on land adjoining the Headland estate and has 4 double bedrooms, a twin room and a dorm for up to 6 children. The villa has its own 16 meter pool and Jacuzzi with a pool deck and recreational area, a grand lawn and stunning cliff-front sea views with private beach access. For more details or to make a direct enquiry please visit www.theviewsamui.com
The View has a different service offering with a dedicated staff for that villa and would usually be the central location for any weddings or large parties hosted at the Headland estate.
Facilities and Services
A team of friendly and discrete staff will cater to your every need at your Samui Headland villa. All villas share similar general facilities and services as listed below, but please do look through the individual villa sections for specific descriptions
Private parking
Secure entrance
Direct beach access at the entrance of the Estate
TV, Satellite, DVD/CD player
In-Villa safe
Fully furnished including linens and towels
Fully equipped kitchen
Free WiFi throughout
All bedrooms are air-conditioned with en-suite bathrooms
All living areas are air conditioned
A loft area boasts a large flat screen TV as well as a sofa and ocean view
The villa manager is available to cater to all your specific needs. They can also help organise activities, massage and spa treatments as well as dealing with any matter arising at the villa
Complimentary continental breakfast is served in your villa every morning
The resident villa staff will ensure the villa is kept clean and tidy every day. A turn-down service every evening ensures your villa is ready for a restful night's sleep
The Villa Manager is available to attend to your needs
Bed linen is changed every third day, while towels are changed as necessary
Pool towels are provided and replenished as deemed necessary
Thai chef service available upon request and availability (surcharge applies)
In villa massage services available upon request (surcharge applies)
Car rental can be arranged with full insurance coverage, with or without driver
Baby sitting on site upon request and availability (surcharge applies)
Access and Safety
The Headland Villas occupy a unique location set amongst the natural landscape. As such, there are many steps and different levels which may make them unsuitable to guests with specific needs for disabled access or with seriously impaired mobility.
The setting and open design of the Headland also makes it impractical to protect every footpath and slope and so parents with toddlers and small children should consider this aspect carefully if children are to be left unattended.
Electricity
The Headland Villas do not have an independent generator and power cuts are a fact of life on Samui, particularly when there are electrical storms. In fact, losing the power, lighting some candles, and feeling the stillness descend around you are some of the charms of island life. The power cuts rarely last longer than one or two hours (and usually less) but it is possible that, during your stay, you may be without electricity for such a period.
Reservation request
Share this page
Languages