Sail Rock (Hin Bai) scuba diving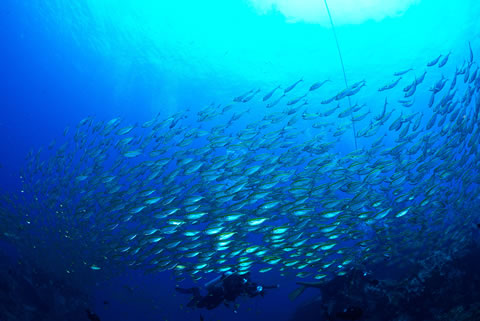 Lying 45 km north of Koh Samui, between Koh Tao and Koh Phangan, Sail Rock is acknowledged as the best dive site in the Gulf of Thailand. It offers divers a stunning underwater topography in which to explore sheer vertical walls, beautiful coral gardens, a unique vertical swim-through and an extraordinarily abundant variety of marine life in all shapes and sizes.
Sail rock is less than a 2 hour boat ride from the Headland Koh Samui. Sail Rock is a granite pinnacle that rises 40 metres from the sandy sea bed with a 12 metres iceberg shaped barren outcrop above sea level. Below the water line is a natural oasis for a variety of marine life, with visibility often 30 metres. It is this abundance and diversity of marine life in one spot, which makes Sail Rock one of Thailand's most renowned diving locations.
Shear underwater cliffs and large boulders make for an impressive submarine landscape. Sail Rock is a unique marine habitat in the Gulf of Thailand given there are few alternatives nearby for marine life and an amazing underwater ecosystem. The marine life you might find at at Sail Rock includes: smaller coral fish such as Blue Ringed Angel Fish, Banner Fish and Butterfly Fish; also nearby larger fish just out from the rock - Chevron Barracuda, Sail Fish and (at certain times of year) Whale Shark!
At The Secret Pinnacle which lies just east of the main rock you can see Giant Grouper, large schools of Spanish Mackerel and Big Eyed Trevally. Next to "the chimney" is an elevated plateau teaming with different forms of marine life; gardens of sea anemones inhabited by pink anemone fish; Yellow Margined Moray Eels explore the holes and crevices, while cleaner and painted shrimp, along with medium-sized reef crabs keep out of their way.
Whatever your level of diving experience (not complete beginners) Sail Rock offers a fantastic experience. Beginners will be able to enjoy the upper section while more experienced divers can explore towards the eastern pinnacle or dive through the famous chimney (A vertical shaft that has its entrance at 18 metres with exits at both 10 metres and 5 metres).
The Naga yacht
One of the most beautiful experiences on Koh Samui Island is to sail around the island in the sunset around some of the most captivating coastal scenery in the Gulf of Thailand.
Boutique Yachting is one of the companies which offers boat cruising. They have a beautiful 30m yacht "The Naga" makes regular day trips that allow you take in the view whilst traveling in style.
Prices start from THB 3,200 per adult (children under 12 are free), which includes a light breakfast, lunch and also Coffee Tea and Soft Drinks.
Find out more from their website.
Bophut beach and fishing village Koh Samui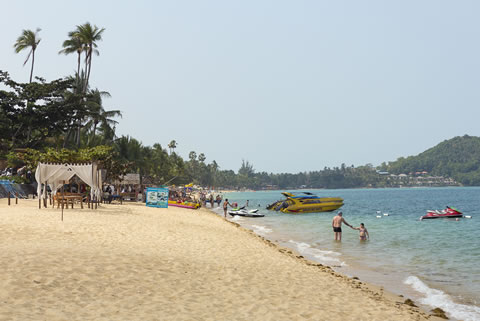 Bophut beach and fishing village is located on the northern coast of Koh Samui between the Big Buddha beach and Maenam beaches. It is twenty minutes away from the Headland in Taling Ngam.
Bophut beach is a narrow beach with several kilometers of golden sand in front of shady palm trees.
"Fisherman's Village" is the main destination in Bophut. The village is on the east side of the beach while the new developments are to the west. There has been an effort here to keep out some of the more commercial elements of Thai night life, while preserving an environment for couples and young families.
Fisherman's village has several stylish restaurants and a shopping strip that retains some of the island's original Thai-Chinese atmosphere. Old Chinese shop-houses crowd the narrow street, where many are converted for use as restaurants, cafés and small shops.
Bophut beach and fishing village has a reputation for being one of the best places to eat on Samui. There are a good number of restaurants offering a wide choice of cuisine in addition to a wealth of Thai dishes. French, Italian, BBQ, Indian, and seafood outlets predominate.
On Friday there is a "Walking Market". The streets are lined with vendors and stalls selling a variety of foods and goods. There are also live music and performances which creates a fun atmosphere.
Golf at Santiburi Samui Country Club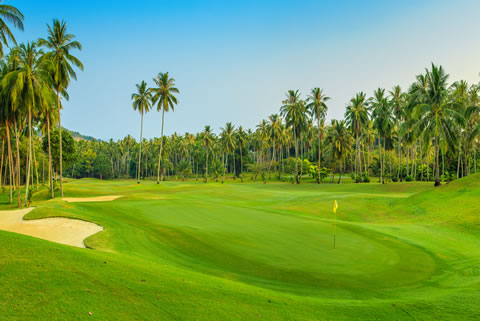 Santiburi Samui Country Club is a championship golf course which has been beautifully landscaped into the hills of Koh Samui's northern coastline, blending in perfectly with the beauty of the coconut plantations and the surrounding natural landscape.
It is an 18-hole course (6,930 yards, par-72) which fits in harmoniously with the rolling contour of hills and valleys while.
There is no handicap requirement to be able to play golf at Santiburi Samui Country Club. However they recommend that beginners should start on the somewhat easier and more forgiving 9-hole variant of the course.
Further information and course rules can be found on the Santiburi Samui Golf Course website
Hin Lad Waterfall and Temple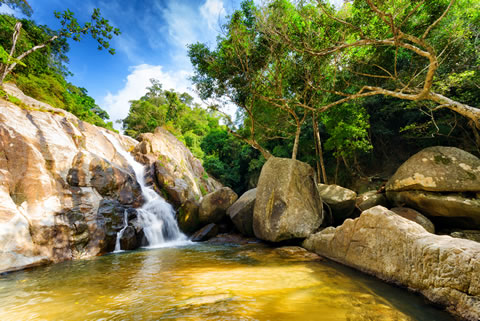 A few kilometers south of Nathon (ten minutes drive north of the Headland Koh Samui) is the well-known attraction of the Hin Lad Waterfall and Temple. This is a great destination for photographers with lush tropical jungle forming a picturesque location.
Throughout the gardens and alongside the paths are religious statues and Buddhas also a number of signs with words of wisdom and religious sayings.
The Hin Lad Waterfall trail hike is a 30-minute jungle hike, so it is wise to take water with you and wear suitable footwear. At the end of the hike are the falls which are at their most impressive during the rainy season when there is a greater volume of water cascading over the rocks. The pools at the foot of the falls are great for a refreshing swim after a hike on a hot day. Take care on the rocks as they are nearly always slippery particularly if you have young or old members of your party.
Whilst this is a great destination for the visitor who likes to unwind with some peace and quiet this is an active temple and is popular with local residents.