Samui orientation, map and townsBook now
Orientation
The Headland Villas are on the West coast of Samui, also known as the Virgin Coast owing to the lower levels of development relative to the North and East coasts. Check out the map of Koh Samui on the Headland website.
Towns
01. Chaweng
02. Lamai
03. Nathon
04. Bophut
Wellness & Gym:
01. Absolute Yoga
02. Intercontinental
03. Six Senses
04. Four Seasons
05. Tamarind Springs
Activities:
01. Multiplex Cinema
02. Butterfly Garden
03. Secret Garden
04. Big Buddha
05. Santiburi Samui Golf
06. Royal Samui Golf
07. Bophut Hills Golf
08. Topcats Fishing
09. Elephant Trekking
10. Na Muang Waterfall
11. Treetop
12. Canopy Adventures
13. Bungy
14. Zorbing
15. Go-Karting
16. Quad Biking
Supermarkets
01. Tesco Lotus
02. Tesco Lotus
03. Tesco Lotus
Dining Options:
01. Five Islands
02. Am Samui
03. Annanas
04. Be to Sit
05. Nikki Beach
06. Beach Republic
07. X2
08. Betelnut
09. The Library
10. Padma
Dining (cont'd)
11. Zazen
12. La Taverna
13. Villa Bianca
14. Via Via
15. Prego
16. Ocean's 11
17. The Barge
18. Dancing Crab
19. Rockpool Bar
20. The Cliff
21. Q Bar
22. Four Seasons
23. Six Senses
24. Green Mango
25. Reggae Pub
26. Flame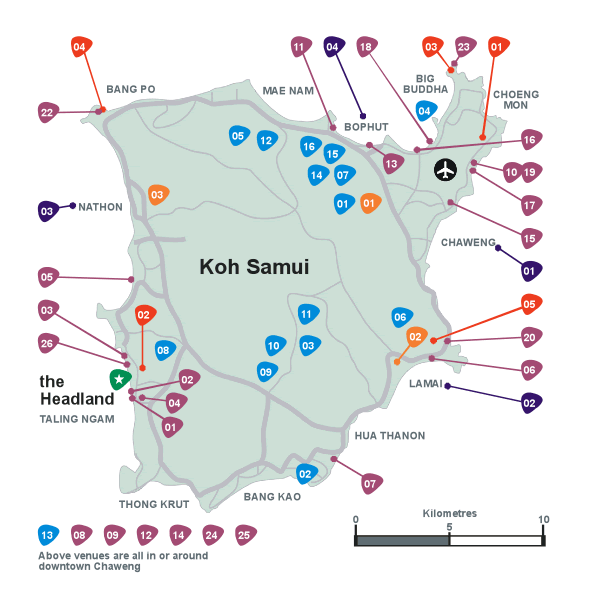 Koh Samui Towns
Chaweng
Chaweng, on the East coast, is the largest town on the island with 6km of white sandy beach and clear waters. With plenty of hotels and resorts, restaurants, spas, discotheques, bars and shopping facilities it is the main tourist center and nightlife area. It is about 45 minutes away by car.
It is a great day out for families where all kind of water sports can be enjoyed. After a day on the beach you can have a dinner in one of the beachside restaurants, sip a drink at a bar or just stroll along the beach road and take in all the shops.
The main strip of Chaweng is a single road that runs parallel to the ring-road. It is a seemingly endless run of bars, restaurants, shops and massage spas. It becomes a one-way system (heading south) quite quickly after it gets lively. The road then returns north, parallel to the strip and adjacent to Chaweng Lake.
Parking in Chaweng is relatively easy and mostly free. Watch out as they often park on different sides of the road depending on whether it's an odd date or an even date; mostly, just follow the lead taken by others. You can park in spaces on the roadside which is often easiest adjacent to Chaweng Lake, behind McDonalds and Starbucks, and walk through to the strip. Beware of car doors on high kerbs! There are some pay-per-hour parking lots and many of the hotels have parking facilities.
An easy way to cover short trips along the strip in Chaweng is to hop on one of the flat bed truck buses. These are usually a flat fare of THB50 along the strip.
After a day spent relaxing in your villa or on the beach, some are in the mood to head for the discos, clubs and bars on the island for a little fun. Most bars close about 02.00 AM, but some clubs have special permission to be open a few hours longer.
The two largest discotheques or clubs on Samui are the Green Mango (located on Soi Green Mango, in central Chaweng) and the Reggae Pub (situated across Chaweng Lake in central Chaweng). Many smaller venues dotted around have live music to suit all tastes. Half the fun is in the discovery!
Lamai
Lamai, on the South coast, is the next largest town on Samui with a good beach and plenty of bars, restaurants and shops. Basically, a smaller version of Chaweng but still lots to do and see. It is also closer to the Headland Villas than Chaweng (about 20 minutes).
Because of its narrow main street, Lamai also operates a one-way system with alternate day parking. Parking generally in Lamai is more difficult on the main strip and is best done along some of the main side streets.
The shops on the Lamai strip offer much the same fare as Chaweng but there are one or two slightly different outlets if you're willing to explore. Mr. Samui's, at the southern end of the strip, is a treasure-trove of trinkets and jewelry in all kinds or precious metals and gems; also, ornaments and some clothing accessories. You can also eat or just grab a refreshing drink in the store.
On the main ring-road north of Lamai town, you will find Buddy Boutique Hotel, a very OTT sort of a place but it does have a modern arcade with air-conditioned shops and coffee houses.
Also on the main ring-road there is a short strip of pretty good arts, crafts and antique shops around the sharp bend by the Temple.
The nightlife in Lamai is much less intense than that of Chaweng, but it still boasts some good bars and clubs. Two popular ones are Fusion and Seed on the central strip.
Nathon
Nathon, on the Western coast is the island's business and administrative centre and is only 15 minutes north of the Headland Villas. It is also the main port on the island and has ferries to and from the mainland and is a jumping off point for many of the boat trips to the surrounding islands.
Nathon is the sort of place most people just pass through, but it can be worthwhile stopping to explore the food markets south of town and the wooden Chinese shop-houses that line the main central road.
Nathon also operates a one-way system and there is a very useful Tesco Lotus Express on the south-bound section of the one-way system. It is tucked well back off the road so you need to keep a close eye out for the entrance. If you miss it, you can try parking on the main road or you will have to go round again.
Return to main blog page
Share this page
Languages